602 West 11th Street

Austin, Texas  78701

512-478-4651

Copyright © 2009 Scanlan, Buckle & Young PC   All rights reserved.

Disclaimer

The information you obtain at this website is not, nor is it intended to be, legal advice and is provided for informational purposes only. You should consult an attorney for advice regarding your individual situation. Any information sent by email on this website is done so on a non-confidential basis. The transmission and receipt of information from this website does not create an attorney-client relationship, nor is it intended to do so. Any links within the website are provided as a convenience to you and does not imply a responsibility or endorsement of the linked site or its contents. Unless otherwise indicated, attorneys listed in this web site are not certified by the Texas Board of Legal Specialization.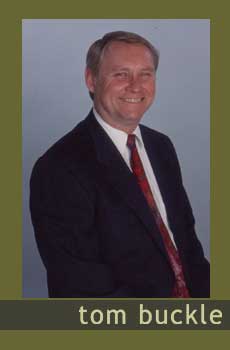 Tom Buckle was born and reared in Houston, Texas. He graduated from Lamar High School in 1963. Mr. Buckle did his undergraduate work at Rice University in Houston and received his B.A. in 1967. In 1970, he obtained his J.D. from the University of Texas, having been selected as one of ten outstanding third year law students for his work with the Legal Aid Program, the Legal Research Board, the Juvenile Defender Program and the International Law Society. Since 1970, Mr. Buckle has continuously practiced law in Austin. Upon graduation, he was employed by the University of Texas Clinical Legal Aid Program, where he had worked as a student.

In 1971, Mr. Buckle became acting director of the Travis County Legal Aid Program, after the University of Texas program had taken over the federally funded legal aid program. During the time he was acting director at the age of twenty-six, Mr. Buckle supervised approximately twenty employees, eight of whom were attorneys, and was responsible for administering six grants which funded the legal aid program at that time. In addition, he worked with John Scanlan, who at that time was running the law student clinical division of the legal aid program.

From 1972 until early 1975, Mr. Buckle was employed by the Texas Air Control Board as a staff attorney in the state agency responsible for controlling air pollution. However, he continued his involvement with the legal aid program, serving on its Board of Directors from 1973 through 1979, the last year as the president of the Board. In 1974, he was also requested to serve on the Travis County Bar's Board of Directors, at that time the youngest person who had ever been requested to serve on the Board of Directors.

In 1975, John Hill, who was then Attorney General of Texas, asked Mr. Buckle to join the environmental division of the Texas Attorney General's office to represent the state's environmental agencies and to advise him on air pollution matters, particularly Houston's air pollution problems. From 1975 through 1978, Mr. Buckle litigated environmental cases throughout the State of Texas and was involved with the congressional revisions to the Clean Air Act, working closely with the staffs of Senator Lloyd Bentsen and various congressmen from the Houston area.

John Scanlan, who had returned to Austin after completing his masters degree in law at Harvard University, asked Mr. Buckle in 1978 whether he would be interested in starting a law firm. In June of 1978, the law firm